The magical view that beguiles you, an architecture that excites you, calms you and make you think, an emotive structure that compels you to go inside. The project is a high-rise edifice that has a unique collection of culinary, cinematic, commercial and offers inlets of luxurious lifestyles. Structural engineering is at its best at Safa Burj Mall, it is an icon of innovative architecture. The mesmerizing view of the extraordinary edifice exudes the aesthetic brilliance of a modern-day high-rise offering unmatched living amenities and luxury.
The Master Crafter
Safa Burj Mall is a magnificent and artistic structure sketched by Mr. Jamshaid Ahmed Khan, an eminent figure in the real estate industry since last decade.
Mr. Jamshaid Khan was born in 1976 & did his Bachelors of Architecture from National College of Arts, Lahore. He founded his company Jamshaid Khan & Associates (JKAA) in 2007. His company got registered with RDA, Bahria Town & DHA in 2011 and with CDA in 2012. The prominent projects to his name are Kohistan Tower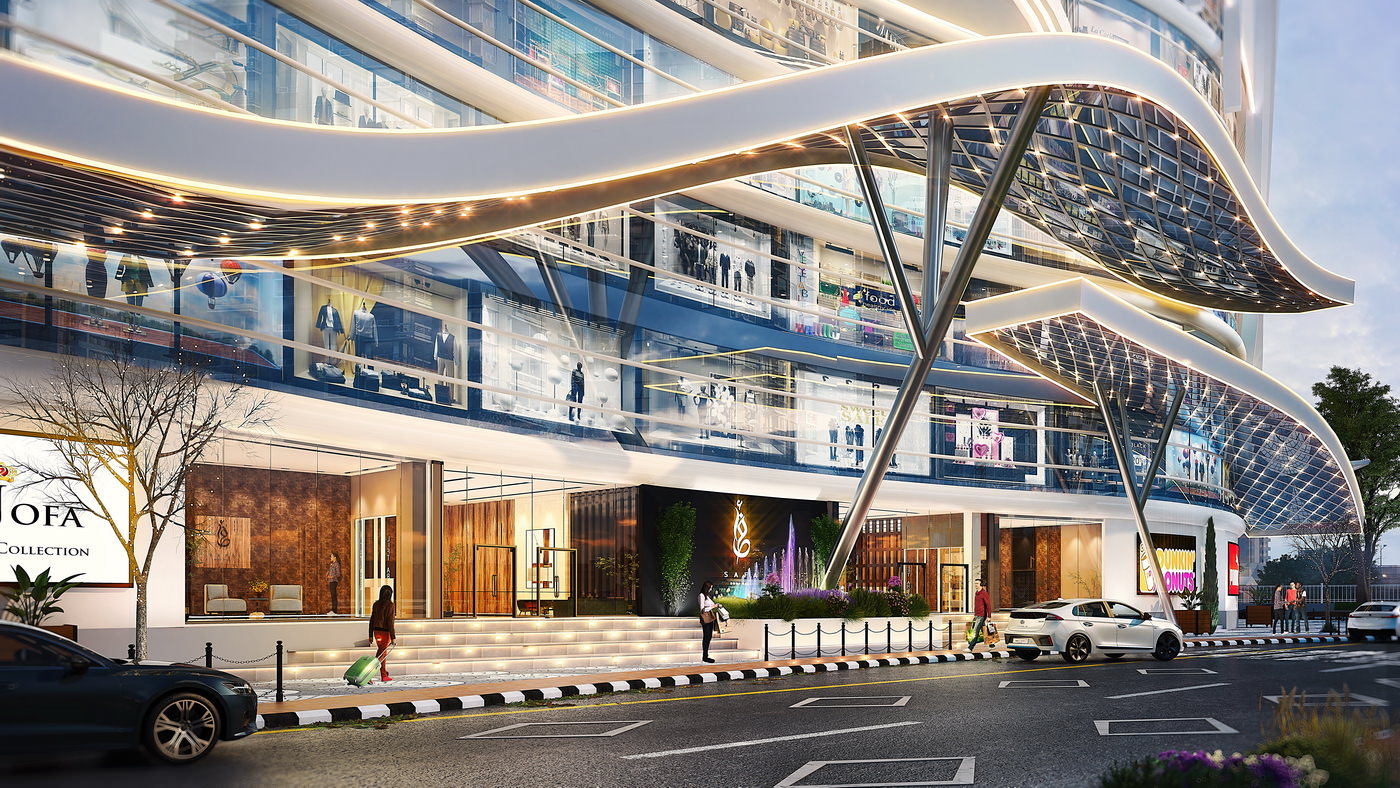 Fascanating Main Entrance
Carefully crafted, the main front view of the ground floor mesmerizes the visitors. The exceptional use of natural light brightens the entrance, keeping it very comfortable. Because of the ultra-modern design, the visitors while entering from the main entrance of Safa Burj Mall feel that they are entering in a futuristic world. Eye-catching constituents, art installations, and immaculate landscaping with a unique presence of a glass façade, enhance the latest designs from top notch brands.
Skydine Restaurant & Lounge Bar is located on the top floor of Safa Burj Mall. Enjoy spectacular views of the green hills that surround the Federal Capital through the 360 degree glass facade. With mouth-watering dishes, the amazing restaurant offers top dining experience, ideal for any private event, celebration or a GT.
Heavenly Relaxation
Treat yourself to your very own slice of heaven with a luxury sauna or steam bath. Relieve the tension of modern life all year round in your beautifully designed tranquil space. Soothe your mind, body and spirit as the sun sets on the work week, while you are submerged in the relaxing fragrance of your choice.
Everything You Love In One Place
At Safa Burj Mall, you get to enjoy everything you love, conveniently located in one place. Featuring, cutting-edge gym with industry leading equipment, huge range of group fitness classes, a wide array of latest virtual games and an air-conditioned expansive bowling alley. Experience the finest in fitness, health and wellbeing at Safa Burj Mall resort-inspired facilities.
Safa Burj Mall is a G+23 Storey/ Mixed-use luxury High Rise luxury, located at Plot 7 and 8, Block C, Multi Gardens, Sector B-17 Islamabad, and exclusively represented by Silverbell Marketing. The building consists of 700 units. A part of the Himalayan foothills, the Margalla range an area of 12,605 hectares, with many valleys and high mountains. It houses around 250 to 300 species of plants, and various species of wildlife, including monkeys, exotic birds and some rare and endangered species.
Highlights
Prime Minister Amnesty Project
Exquisite commercial project with a hotel, banquet hall and a shopping mall
Extravagant rooftop gardenia and promenade
Duplex and jacuzzi
14 commodious elevators
Unhindered scenic views of populace Margala hills
G+23 Storey commercial high-rise with modern amenities
05 minutes stretch from Motorway- Islamabad Airport- a mere 15 minutes drive from Islamabad' centre
An apex communal experience
4 floors dedicated for parking – sufficient to house 600 plus cars
Smart building management system for optimal use of resources
Extravabaga gaming zone with snooker hall, bowling alley
24/7 power backup
Competitive Rates

Location

Safa Burj Mall is located at a prime location of Islamabad's prime sector B-17, at the foot of Margalla Hills. Around five minutes drive from Motorway M1, Rawalpindi Ring and Islamabad airport, the exquisite colony is a central point for Taxila, Wah Cantt, and Hassanabdal and gateway to FATA, KP, Kashmir, and Gilgit Baltistan. B-17 is a planned sector, with breathtaking views, wide roads, and scenic views. Safa Burj Mall Mall is a stretch away from schools, parks, mosques and other amenities present within the sector B-17, and 15 minutes drive from the centre of the Capital.

Floor Plans

The G+23 Storey building has been divided into commercial and residential areas. Ground to 4th Floor are mall and 5th to 6th Floor are a food court, Residential is 9th to 23rd. The fifteenth floor will house the first sky lounge of Pakistan, while the 21st and 22nd floors will consist of Penthouses.

Parking

Four storey of the building have been allocated for parking, which can accommodate more than 600 cars.
Jacuzzi
Heating System
Cooling System
Elevator
Balcony
Basement
Security :
Watchman, Digicode, Alarm, Lock, Cctv
Roof Deck
Storage
Furnished :
Fully Furnished
Washing Machine
TV
Cleaning Service
Dishwasher
Telephone
Internet
Longitude :
E72° 49' 36.7''
Latitude :
N33° 41' 2.4''
5 Results returned.
Per Page
0 Results returned.
Per Page
0 Results returned.
Per Page
Safa Burj Mall
Islamabad Pakistan
Rs4,978,000 - Rs36,900,000
Price Range :
Rs4,978,000 - Rs36,900,000
Square Footage :
112 - 2,020 Sqft